New Year is the time for good resolutions. Almost all of us have already made a New Year's resolution: "Finally clean out the wardrobe!" This resolution is practical because it is quick and easy to implement and does not represent a long-term effort such as changing one's eating habits or learning an instrument. In this article, you'll get to know our thoughts on throwing away clothes and we'll show you a few alternatives!
It depends on yourself whether you want to use the new year as a brake or as a motor.

Henry Ford
GOOD RESOLUTIONS FOR THE NEW YEAR
The urge to clean out our clothes is often reinforced by various tidying coaches who have just published another new book or TV show. Friends and relatives jump on the bandwagon and before you know it you are considered the family messie because you refuse to throw away intact clothes and fabrics.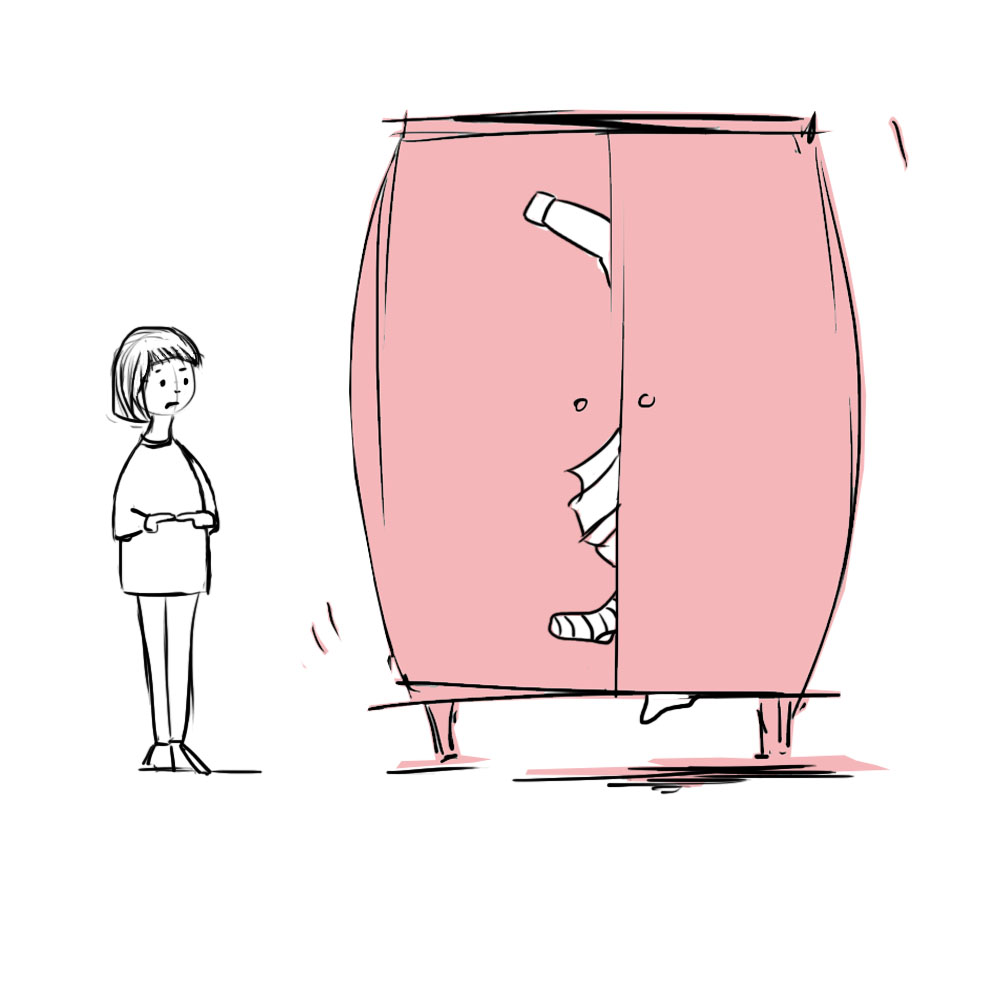 The three of us have often felt the need to tidy up our wardrobes. Every year, new pieces pile up in the drawers – whether they are historically inspired, inherited from grandma or handmade one-offs. There always comes a point when we feel overwhelmed by this mass of clothing. And then the time comes when we start to clean out.

We play this game again and again. An never-ending cycle. So it's very practical that this ritual happens quite quickly. But quick changes often don't last long. Could our quick handling of clothes in general actually be the real problem?
THE DICTATORSHIP OF THE FASHION INDUSTRY
New fashion collections constantly flood the market and new trends emerge: What was hip yesterday is gone today! We accumulate clothes in our wardrobes that we want to get rid of again after a while. No wonder that every year we are faced with a wardrobe filled to a bursting point. We all have at least one item in our wardrobe that we bought just for the trend or because it was a bargain. Aren't you tired of the whole game?
It's actually a strange behaviour that we should think about: Buying clothes only to be able to throw them away quickly. But there is one question behind it all: who actually decides what goes into my wardrobe? Me or the fashion industry?
Of course it is practical when we are told what to wear. This winter the green jacket with fake fur and in spring the jumper with embroidery, in summer the shirt with glitter, etc. But doesn't that mean we are always chasing after someone else's fashionstyle?

We spend a lot of money on it and load ourselves up with a bunch of clothes that we might not really need or like. Don't these things end up in the trash again because we have the urgent need to get rid of them all?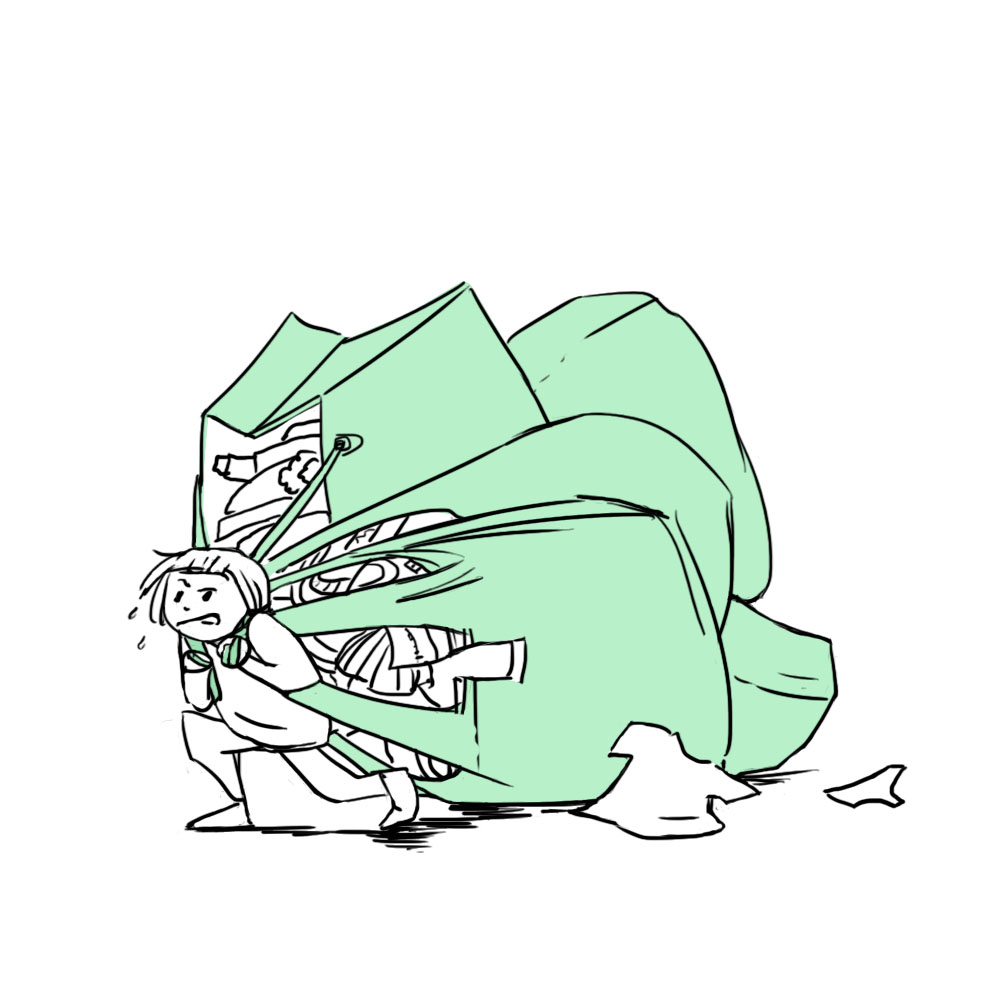 HOW DO I SORT OUT MY CLOTHES PROPERLY?
Before we all start sorting through our wardrobes and clothes, we have a few tips for you! Sit down in front of your wardrobe, take a deep breath and think about it:
What do my clothes mean to me?
Why did I buy the clothes I own in the first place?
How should my future wardrobe look like?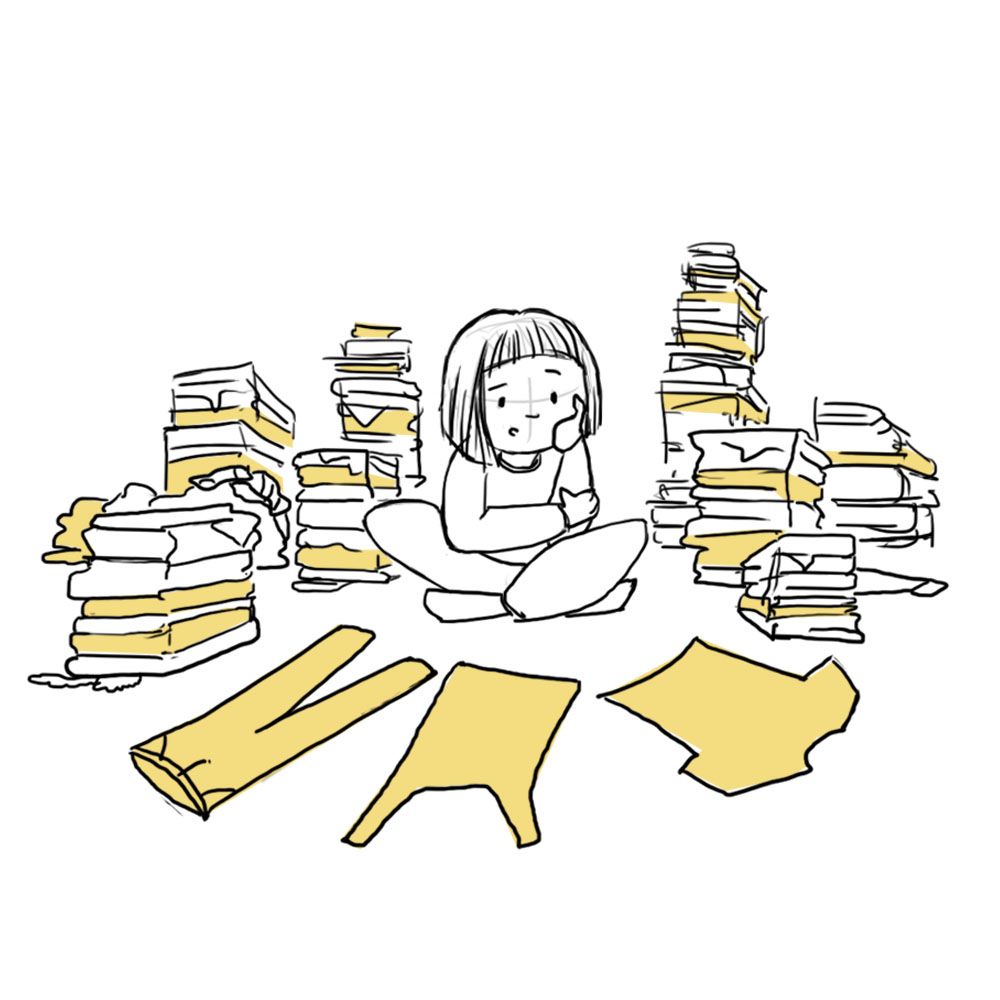 If we think about our buying behaviour and our possessions, we will realise that it is perhaps not necessary to clean out the closet every year to make room for something new. It would make much more sense to better appreciate what we own.
Do you have a favourite item that you wear, regardless of whether it's in fashion or not? Honestly, we would still wear that pair of high-waisted red trousers because they have become a part of us!
So ask yourself questions like: Why are my favourite trousers actually my favourite trousers? Because the colour is great or because they are just super comfortable? Doesn't it matter if yellow hipsters are in right now?
Let's imagine how it would feel if we could only choose from our favourite pieces! It's a fabulous idea that, above all, saves us time! So why not ignore the fashion world and buy only what we really love?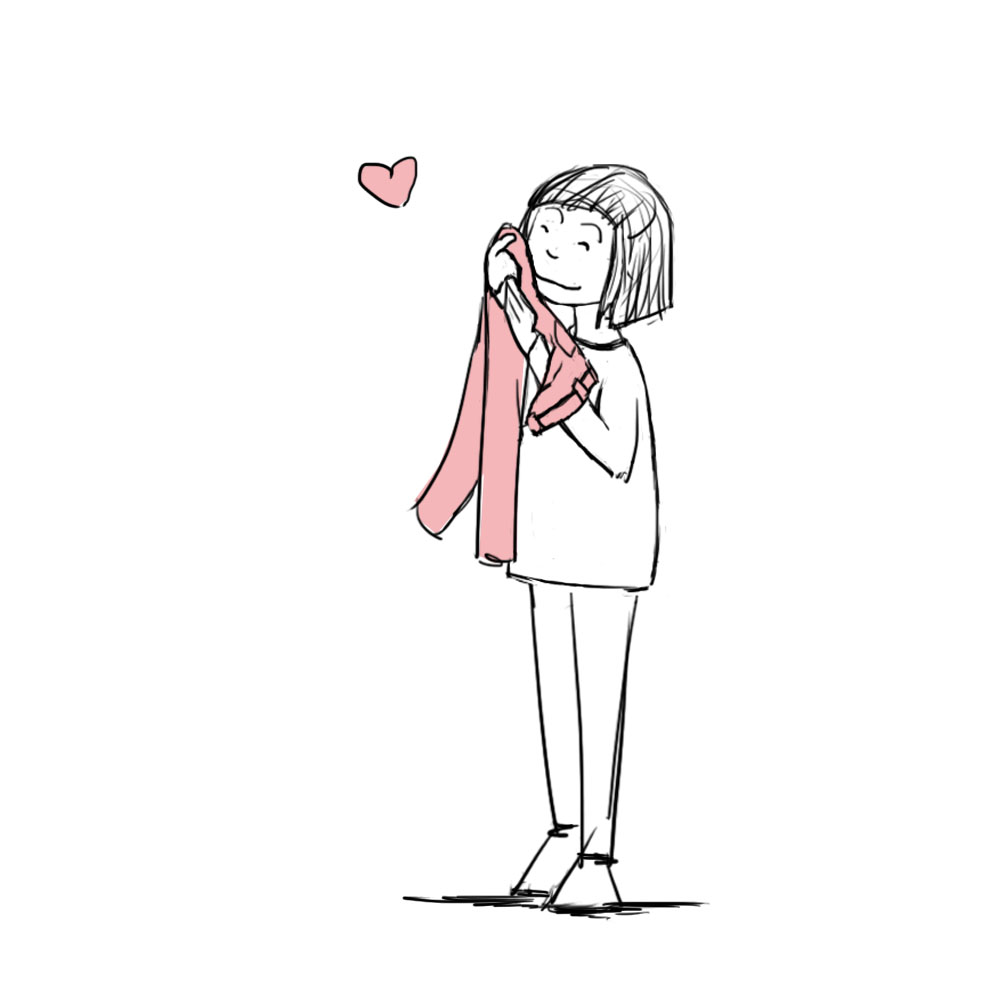 Loved Clothes Last
The three of us also have some pieces in our wardrobe that we have grown fond of and that have been with us for quite some time. In order to wear our favourites for as long as possible, it is important that we take good care of them and repair them when necessary. High quality is an important factor here. [A high price of course is not an indicator for high quality].
Sustainability, ecological and fair production should be taken into account whenever possible. Often these garments are more expensive than conventional ones, but it is worth buying less. This way, we not only preserve our clothes for as long as possible, but it is also good for our environment!
uy less. Choose well. Make it last. Quality, not quantity.

Everybody's buying far too many clothes.

Vivienne Westwood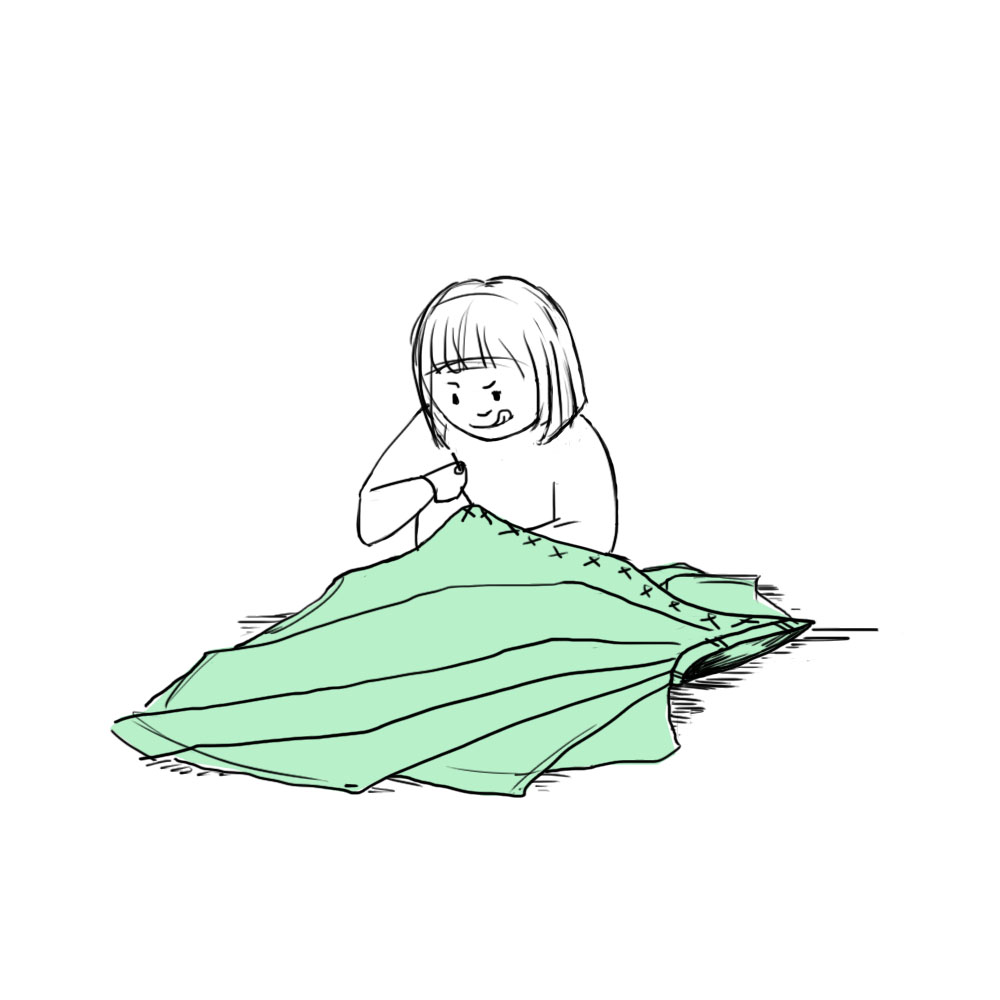 WHERE TO PUT THE DISCARDED CLOTHES?
So now we have become aware of what exists in our wardrobe and why. And of course, what we want to wear in the future.
Therefore, we can now start sorting the wardrobe ourselves. In the process, however, we will soon notice that a few pieces fall into our hands that we really can't or don't want to wear any more.So now we have become aware of what exists in our wardrobe and why. And of course, what we want to wear in the future.
This is perfectly normal and there are a few very good things we can do with them:
Repair and mend damaged clothes: If all the seams aren't already falling apart or the fabric is crumbling to dust, there are usually easy and good ways to repair damage. Malin recently started a series on how to easily repair clothes with Julia from the blog Green and Whales on her IGTV channel. This way! (German only, but you will see all the tricks)

Upcycle our alter clothes: Anyone can turn a tank top into a cleaning rag, but there are thousands of other ideas for upcycling clothes! You can find inspiration from us on our blog entry DIY Christmas Cards from fabric scraps or on our Pinterest board.

Sell clothes: E.g. on the internet or to second hand shops.

Swap clothes:

[At the moment, of course, it's better to do it contactless]

You can find a few platforms for this on the internet.
Donate clothes: It's best to donate to social institutions that sell clothes locally.

[Did you know that clothes that end up in the clothing container destroy the fashion markets in developing countries? That's why the import of second-hand goods from industrialised countries is often banned. Clothes that are left over or no longer wearable are shredded and either end up in the trash or are reused as insulation material].


If you want to donate to institutions for refugees or homeless people, you should ask beforehand what is needed at all – it often happens that household goods are needed much more urgently than clothes.
THROWING CLOTHES IN THE RUBBISH SHOULD REALLY BE OUR LAST OPTION!
If we think about all these things before clearing out our beloved wardrobe, we will enjoy our clothes more in the future and feel less of a need to rid ourselves of our "clothing burden". Clothes are something that protect us and connect our bodies to the environment, they should not be a burden that is constantly breathing down our necks and taking away time in the morning while getting dressed.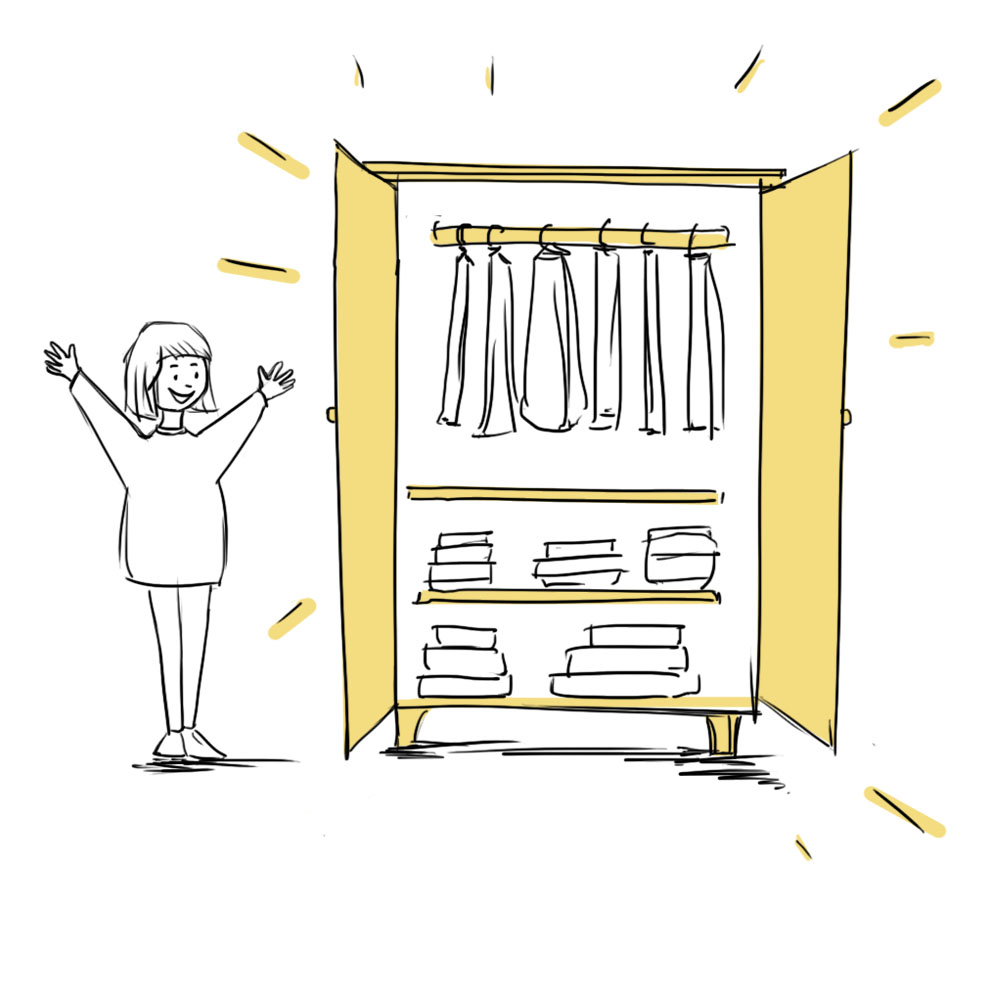 WHAT ARE YOUR EXPERIENCES WITH THROWING AWAY CLOTHES AND CLEARING OUT?
How do you feel about this topic? Do you also have a full wardrobe at home that you want to get rid of? Or have you perhaps already done all that?
What are your favourite pieces that you love dearly, even though they are no longer "trendy"?
Feel free to write us your experiences in the comments!
A HAPPY NEW YEAR 2021, WITH CLOTHES THAT MAKE YOU HAPPY, THE THREE COCOONS