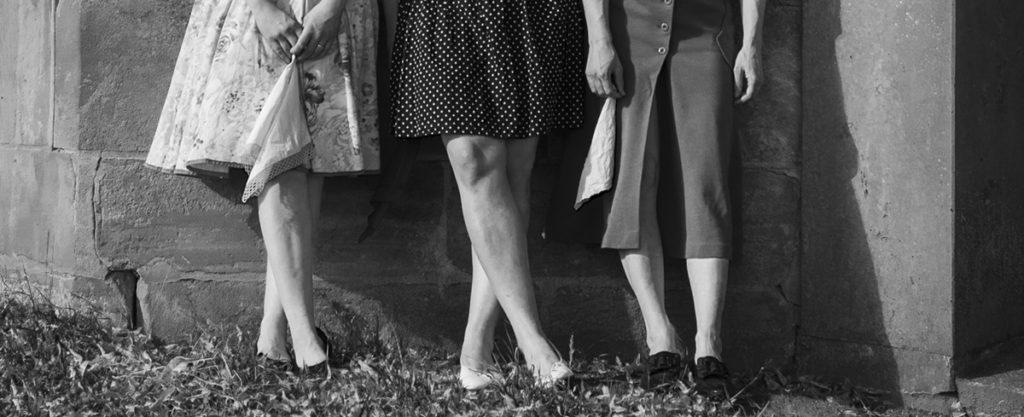 How AN INNOCENT WHITE CLOTH BRINGS DECENCY, LOVE, MURDER AND MANSLAUGHTER AND YET IN THE END WIPES EVERYTHING CLEAN AND PURE AGAIN.
At first glance, the story of the cloth handkerchief seems completely unremarkable. But have you ever wondered if there might be more to it than meets the eye? Are there messages hidden behind the little cloth?
Why is it always square?
And what does the bra have to do with it?
The cloth that is in the pocket of a garment has been around for a very long time – but to be honest, for a long time it was not used as we know it today:
In Roman antiquity, the sudarium [sudor = sweat] was made of linen and was used as a sweat and mouth cloth. In ancient Asia, on the other hand, small cloths were used as protection from direct sunlight.
Fingers as a cleaning tool
KÖNNT IHR EUCH VORSTELLEN, DASS ES FRÜHER NORMAL WAR, WENN SICH DAS GEGENÜBER EINFACH MIT DEN FINGERN DIE NASE PUTZT?
Even in the Middle Ages, every kind of cloth and fabric was very expensive: everything was elaborately handmade. To remove excrement from the nose, therefore, simply the hands and one's own clothing were used.
In the 11th century, however, during the heyday of minning, the handkerchiefs of noble ladies acquired a very special significance: as a secret pledge of love, knights took them with them into battle. The handkerchief was considered a lucky charm, which was obviously attached to the weapons [but only if the beloved was not already taken, for in that case it was rather hidden in the helmet].
Death penalty
THIS LITTLE ACCESSORY HAD IT ALL – HOW NASAL HYGIENE LED TO DEATH.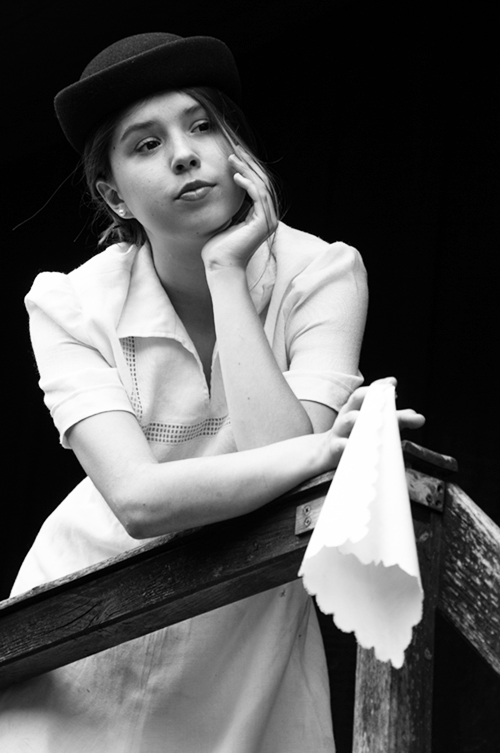 Around 1300, a Flemish weaver named Baptiste Chambray invented the "drapesello panetto di naso". Slowly, the handkerchief developed across Europe's borders into an important accessory of noble society. Under the name "Fazzoletto", it was a fixed component of every wardrobe of noble aristocrats and was attached to the clothing in a clearly visible manner [it was often also soaked in perfume to cover up one's own body odour].

The popularity of this little accessory knew no bounds among nobility. In the 15th century, Sultan Mehmed II. Fatih went so far as to impose the death penalty on those who dared to carry a handkerchief despite their lowly origins.
Regents and their Handkerchiefs
From the Renaissance onwards, handkerchiefs became increasingly elegant: fine silks or muslin were the preferred materials. The ladies decorated them with lace and embroidery in elaborate handwork.
Venice was considered the centre of needlepoint handicrafts at this time. Venice was where the fine society gathered and from this place the fashion spread.
And so it happened that the handkerchief soon became an integral part of painted portraits. Many noble ladies had their portraits painted with a handkerchief decorated with lace, as did Queen Konstanze of Austria and Queen Elizabeth of England.
William Shakespeare was also affected by the handkerchief: the play "Othello" [also set in Venice] gives his wife Desdemona a handkerchief. When she loses it, he sees it as a sign of her infidelity, which ultimately leads to their death.
Quality in a Square
In the 18th century, many people wore their handkerchief as a status symbol. The handkerchief was considered one of the most precious heirlooms and was passed on to the younger generation. It was then not only reused, but often incorporated into clothes as a piece of fabric.
As a result, there were soon many different versions: rectangular, very long, round, large, triangular. The larger a handkerchief was, the more important its wearer was. Everything was possible and everything was allowed!
The handkerchief was also very popular at the court of the French King Louis XVI. His queen, the Austrian Marie Antoinette, was a style icon of her time. As a fashion trailblazer, she had herself portrayed in a Chemise a la Reine [the chemise dress, which translates as "the queen's undergarment"] – which was a huge scandal at the time!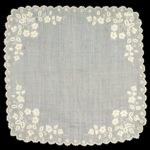 Marie Antoinette found it unaesthetic that there were so many different shapes of handkerchief. So in 1785 she enforced a law that said: the handkerchief should be as long as it is wide! Or rather: no one may wear a larger handkerchief than the King and Queen of France. Strangely enough, she is one of the few regents to have been portrayed without a handkerchief!
A few years later, the heads of the ruling couple rolled. After the fall of the French monarchy, cotton became cheaper to import and the mechanical loom made it easier to make cloth.
From the Hankie to the Pocket Square
While the ladies kept their handkerchiefs either in small pouches [tie on pockets], in their sleeves or in dress and skirt pockets, the men could only put them in their trouser pockets – if they had any.

Around about 1830, the breast welt pocket was gradually established in male garments. This gave the handkerchief a new function: it was draped decoratively in the pocket.
Since then, the pocket square – as we call it today – has been one of the most colourful and wild accessories in men's fashion: men can let off steam fashionably with the little cloth and reveal their true identity.
The invention of the bra
BUT NOT ONLY THAT! DID YOU KNOW THAT THE HANDKERCHIEF WAS THE INITIAL IDEA FOR THE FIRST BRA?

On September 5th 1899, Christine Hardt from Dresden, Germany registered the "Frauenleibchen als Brustträger" [women's bodice as a breast support] at the Imperial Patent Office, Germany – she thus invented one of the first bras [until then, only stays, corsets or laced bodices had been worn as a support garment].
She sewed it from five ladies' handkerchiefs and a pair of men's trousers straps. The new piece of underwear stood as a symbol for itself. However, Christine Hardt did not have any success with it during her lifetime.
CLOTH HANDKERCHIEFS: A SPY STORY
In war, accessories are not only used fashionably: as early as the First World War, handkerchiefs were partly printed with maps. These were given to parachutists for orientation, because sneezing officers looking at their handkerchief were much less conspicuous than if they were constantly looking at an unfolded map.
If you are interested in an online exhibition about "Campaings on Cotton", click here and learn more about the [mostly always] exciting American election campaign and its use of cloth handkerchiefs.
Hankie En Vogue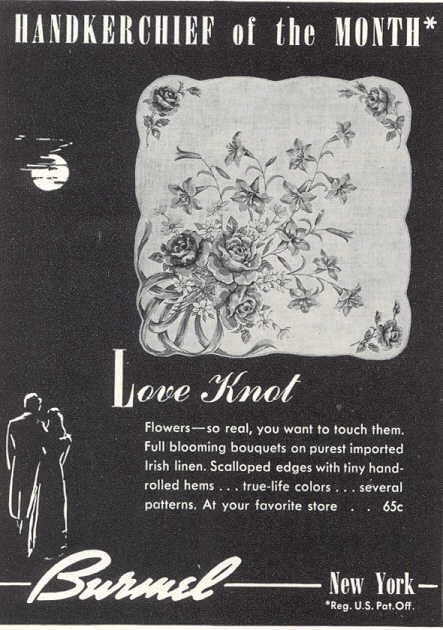 Due to the depression and fabric regulations that came into effect during the Second World War, many women could no longer afford new clothes. Instead, outfits were creatively spiced up and customised with old or new handkerchiefs: These peeked out of breast plackets, were attached to the belt or could be pulled through the top buttonhole. They were artfully tied into the hair or knotted to the wrist.
Every month, Vogue advertised the handkerchief of the month by the Burmel and Kimball companies, and haute couture gradually began to produce scarves.
HISTORY PROVES IT: TODAY, AS IN THE PAST, THE HANDKERCHIEF IS A SOURCE OF COMFORT, A LIFESAVER IN TIMES OF NEED, A REMINDER OF DAYS GONE BY AND THE MOST IMPORTANT REQUISITE FOR SCOUTS AND FILMMAKERS.
It's come a long way, but still has a much longer way to go: if we start switching back to cloth handkerchiefs now, we can make a small positive impact on the environment! Read more about it here!
Do you have a personal handkerchief story you would like to tell us? We would love to hear it!
Just write us a comment with your own story about the handkerchief. We look forward to hearing from you!