We are Cocoon Patterns and we bring you historically-inspired sewing patterns for theatre and movie costumes with a story to sew yourself that still fit seamlessly into your wardrobe today!
A very warm welcome to our site –
good to have you here!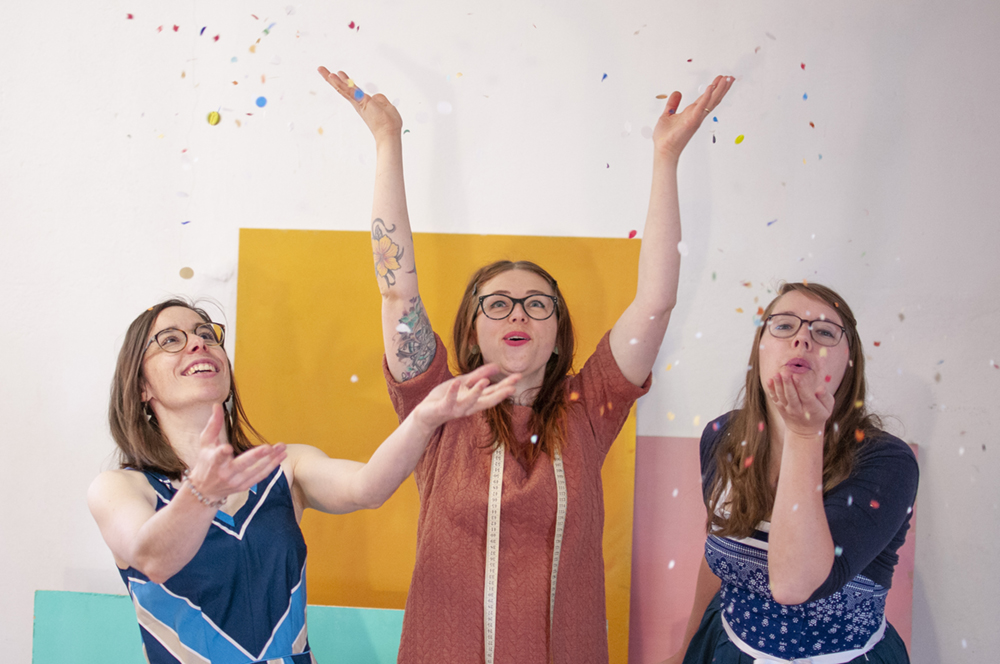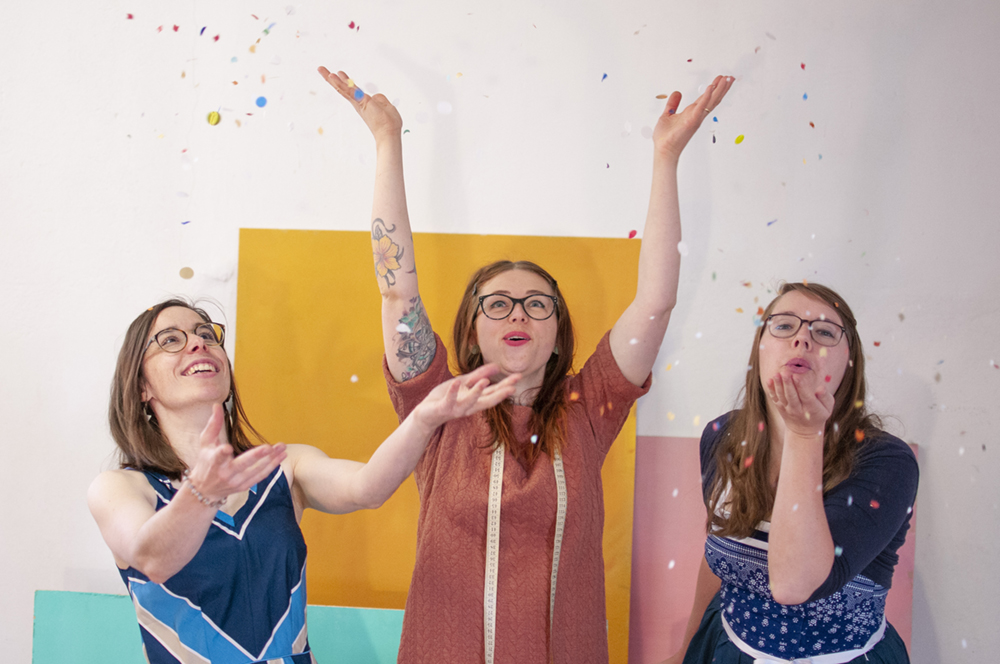 We are Lena, Malin and Linda: three friends with a passion for theatre and movie costumes and everything that has to do with the story behind them. We bring you the sewing patterns!
We'll tell you here[click] the story how the idea for Cocoon sewing Patterns came about. But today we would like to introduce ourselves personally and give you a first glimpse behind the scenes of our new sewing pattern label.

–––––––––––––––––––––––––-
Linda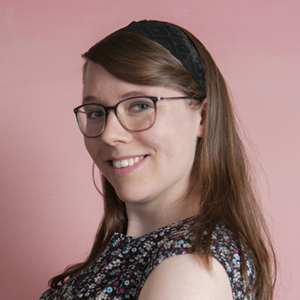 Hello, I am Linda. I studied stage and costume design and I'm from Bamberg.
My passion for sewing developed out of necessity.
In my parents' house, it was always important to use things as long as possible before disposing of them. So I learned early on not to immediately throw away broken stuffed animals and dolls' clothes, but to repair them: in the beginning, I managed to patch holes rather badly than well, but soon I dared to make my own new creations from old curtains and cushion covers.
When I was about 12, I attended my first sewing class and from then on tried my hand at simple patterns from various magazines. I got my first sewing machine at the age of 14 – it was second-hand, of course, and is still a faithful companion to me today [Indestructible and beautiful!].
From hobby to profession
During my school years, I participated in many theatre projects and thus discovered my love for stage and costume design. Sewing has been with me ever since: for me it is both a beloved hobby and part of my profession.
I don't want to miss it anymore! With "Cocoon Patterns" I am very happy to be able to share my passion with the two wonderful and talented women Malin and Lena, as well as many other enthusiastic sewers!
–––––––––––––––––––––––––-
Malin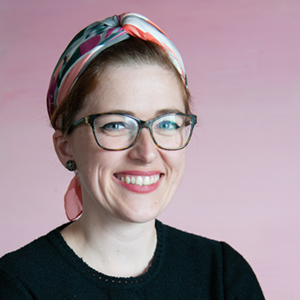 Hej, I'm Malin. I am a trained tailor and costume cutter [aka draper or first hand] and come from the Rhein-Main area. Ever since I can remember, I have enjoyed crafting, painting and sewing.
My grandmother Wilhelmine was my first creative role model and inspiration
With her help, I made my first doll clothes, carnival costumes and my first upcycling project [but it didn't have the hip name back then]. She showed me how to transfer sewing patterns from existing clothes onto newsprint and sew myself new clothes that way. I sat at her old Singer sewing machine [unfortunately it has since completely given up the ghost] and repaired my father's work overalls and jeans, which she transferred to me at the time.
My grandmother never sat still in front of the TV in the evening but always had something in her hand: clothes to darn, new jumpers to knit…. She was always creatively at work and completely inspired and infected me with it. Apparently we both also have a very similar physique, because I have been able to add two of her self-sewn dresses to my wardrobe – every now and then I wear them and remember her very fondly.
Then I discovered the theatre
In 2003, during autumn break of my A-levels, I did a voluntary internship in a theatre costume department. I sat in the men's tailor shop, sewed and decorated slippers for the upcoming Winter's Tale. And right then I knew: this is what I want to do as a living!
Fast forward: After a few costume designs for student musical productions in Freiburg, I worked with Lena on my first feature film "Trümmer der Erinnerung" which was designed with historical costumes.
Via many cities and costume departments, I have now landed back in my old home and arrived in my profession as a costume cutter. I am so happy to have met Linda and Lena along the way and now to embark on this new path together with them, creating these sewing patterns for you that tell a story!
Ladies: Here's to good cooperation!
–––––––––––––––––––––––––-
Lena
Hello, I am Lena. I'm a set and costume designer and I'm from Austria.
My first sewing machine
I got for Christmas when I was twelve – it's the same one that's still on my sewing table today. My grandma Olga bought a second-hand machine back then and had it repaired for me because she knew exactly how great this model was.
My grandmother always sewed a lot. In her youth there was a fabric shop in Villach [Austria] with very special fabrics. She once told me that back then she put away the money which was supposed to be for her school snack. Often didn't eat anything all day so that she could save up for a certain fabric for months and sew herself a dress.
For her, sewing was always a little time out just for herself. Today, there is still a small treasure trove for sewing-enthusiastic granddaughters in the attic of her house. Fabrics, lace, trims, sewing supplies – everything your heart desires! And in her wardrobes you can find old clothes that are very fashionable again today.
My way to costume design
But if I'm completely honest: when I found my sewing machine under the Christmas tree, I didn't know what to do with it at first. It took a few self-sewn juggling balls, visually very questionable skirts [without patterns and instructions, of course – Youtube instructions weren't really en vogue in my little world back then], a whole course of study and first assistantships before I met an inspiring seamstress at the theatre and really fell in love with sewing and costumes!
And since then it has never left me
I already met Linda during my studies. At the theatre, Malin joined us. Together we dived deeper and deeper into the depths of the costume stock, into costume-historical excesses and a joyful exchange about the most beautiful costume designs, fashion exhibitions and new ideas.
Girls, I am so happy that we are making our ideas come true together!
–––––––––––––––––––––––––-
Do you have any questions about our sewing pattern label?
We hope you are as excited as we are to see where our journey with Cocoon Patterns will take us. We want to bring you the best sewing patterns we can offer you and hope you can find your own story in them!

We'd love to hear your feedback and suggestions! Leave us a comment or drop us a line telling us who inspired you to sew and what you'd like to read and see here.
Die Drei Cocoons